In today's competitive news environment, broadcasters face multiple challenges. They need to find creative ways to acquire more content as a differentiator while managing costs. Their viewers want not just local but international news as well. The viewing habits of households are far more complex today with multi-screen devices, and the way people use and interact with them.
TVU Networks delivers a complete suite of solutions designed to address the changing needs of viewers. TVU enables broadcasters to transform the way they acquire and distribute live video over IP from practically any location. Thousands of broadcasters around the world use TVU solutions every day to broadcast live news and events.
Accelerate the Transition to IP
TVU offers powerful solutions that enable television broadcasters to transition from legacy SDI infrastructures to IP. TVU solutions are modular and integrated, allowing for a gradual, systematic move to IP. In addition, TVU Networks has an ever-growing list of technology and solutions partners that integrates with TVU solutions through its Open API program, further allowing for tighter third party product integration.
TVU has developed a very focused set of hardware that includes TVUPack transmitters and receivers that is driven off of software and the Cloud. As a result, broadcasters are able to easily take advantage of a wide number of features and capabilities. It also allows broadcasters to stage the rollout of features and capabilities based on the broadcaster's needs and timing.
Cover More Events from More Locations
TVUPack enables you to cover more events from more locations than ever before. TVU customers use the pack to capture and broadcast footage from more places to get the real story, whether it's going live while moving through a crowd or from moving vehicles such as motorcycles, news vans and even high-speed trains. TVU also offers TVU Anywhere, a powerful mobile app that can deliver live video from any compatible iOS or Android mobile device.
Switch, Route and Distribute Live Video
With TVU Grid, broadcasters are able to easily manage the acquisition and distribution of IP video content while eliminating the need for redundant legacy equipment. TVU Grid is helping some of the largest broadcast organizations in the world accelerate the transition to an IP-based infrastructure and tap into greater workflow efficiencies in the newsroom.
Add Flexibility to Your ENG Vehicle
TVU provides solutions that meets the needs of any ENG vehicle owner. For broadcasters looking to expand the capabilities of new or existing vehicles, TVU MLink is a rack mount transmitter that aggregates any and all cellular/satellite/microwave IP connections for transmission. TVU MLink is also featured in Frontline System IP vehicles.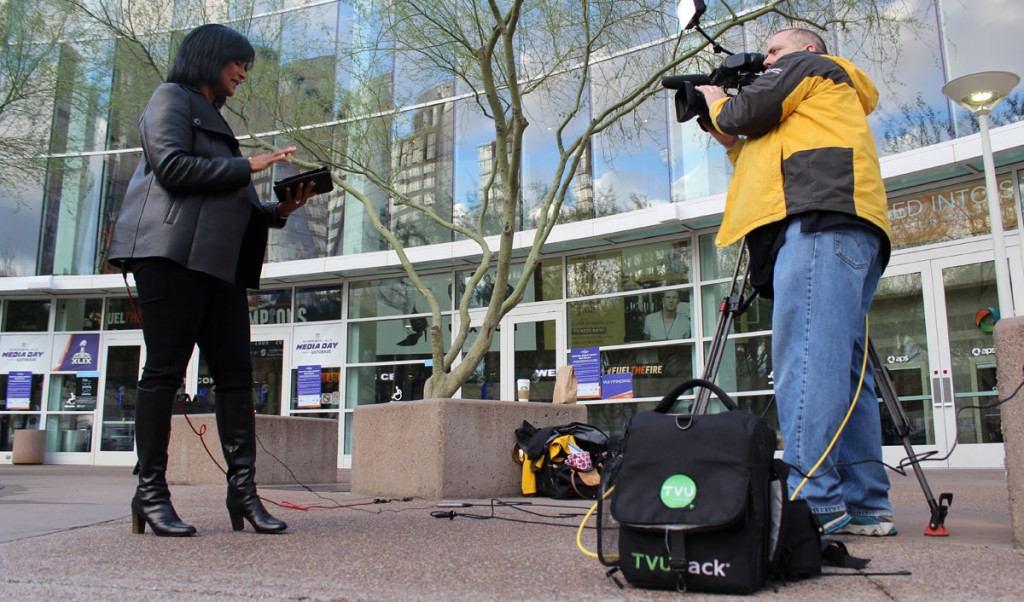 As our stations embrace the move to IP video, TVU will be a valued technology partner giving our stations a local competitive edge. With TVU, our stations are better equipped to not only capture more live shots from on location, but to also share and distribute live video streams across the group."

– Blake Russell, Senior Vice President, Station Operations, Nexstar Broadcasting Group
Get More Out of Your Sports Coverage
For crowd shot and fan interviews, or even going live from a professional cycling race on the back of a motorcycle, TVU customers from around the globe have used TVUPack to deliver enhanced coverage of sporting events. TVUPack has been used to cover a wide variety of sporting events of all sizes. Whether you're covering World Cup soccer, high school football, basketball, baseball, horse racing, cycling, or auto racing, TVUPack can take your viewers deeper into the event.
Deliver Clear Professional HD Picture
Using proprietary IS+ transmission technology and a superior purpose-built Variable Bit Rate encoder, TVUPack delivers the highest quality, sharpest professional picture available from a mobile IP transmission solution.
Upcoming Events