TVU offers proven, affordable tools for organizations to deliver professional-quality live video of a wide variety of sporting events from any location in the world and distribute it to broadcast and Web audiences.
TVUPack: Live, Mobile IP Video Transmission from Any Location
With TVUPack, sports leagues, athletes and teams are able to deliver live game and event coverage, press conferences, sideline interviews, practice reports, and other ancillary content to fans. TVUPack is relied upon by some of the biggest names in sports, including the National Football League (NFL), National Hockey League (NHL), Major League Soccer (MLS), and more.
Deliver Live Video From Anywhere in the World
The changing media landscape has introduced an explosion of demand for video content of games and other functions. Whether it be a major worldwide event such as the Olympics or World Cup, or a sporting event with regional interest, TVUPack can help organizations deliver live video to any sized audience to view on multiple broadcast and online platforms.
Give Greater Access to Fans
In the digital age, fans are looking for increased access to the athletic programs they support. TVUPack enables athletic programs to create compelling content that provides a deeper connection with fans. With TVUPack sports teams can deliver live video content of games, pre-game and post-game coverage, practices and other team related activities for audiences around the world.
Expand Your Audience
For college and professional sports organizations, it is critical to reach the largest audience possible. TVUPack delivers the ability to cover more events – especially those not covered by traditional media – in a simple and cost effective manner. TVUPack can help you expand your reach by delivering live video to the largest possible audience.
Simple Solution for Broadcast and Web Streaming
Whether going live on air to millions, or streaming online to a small, dedicated audience, TVU offers a wide range of easy-to-operate solutions for professional, collegiate and amateur athletic programs. With no in-field configuration required, TVUPack can deliver live video with just the push of a button.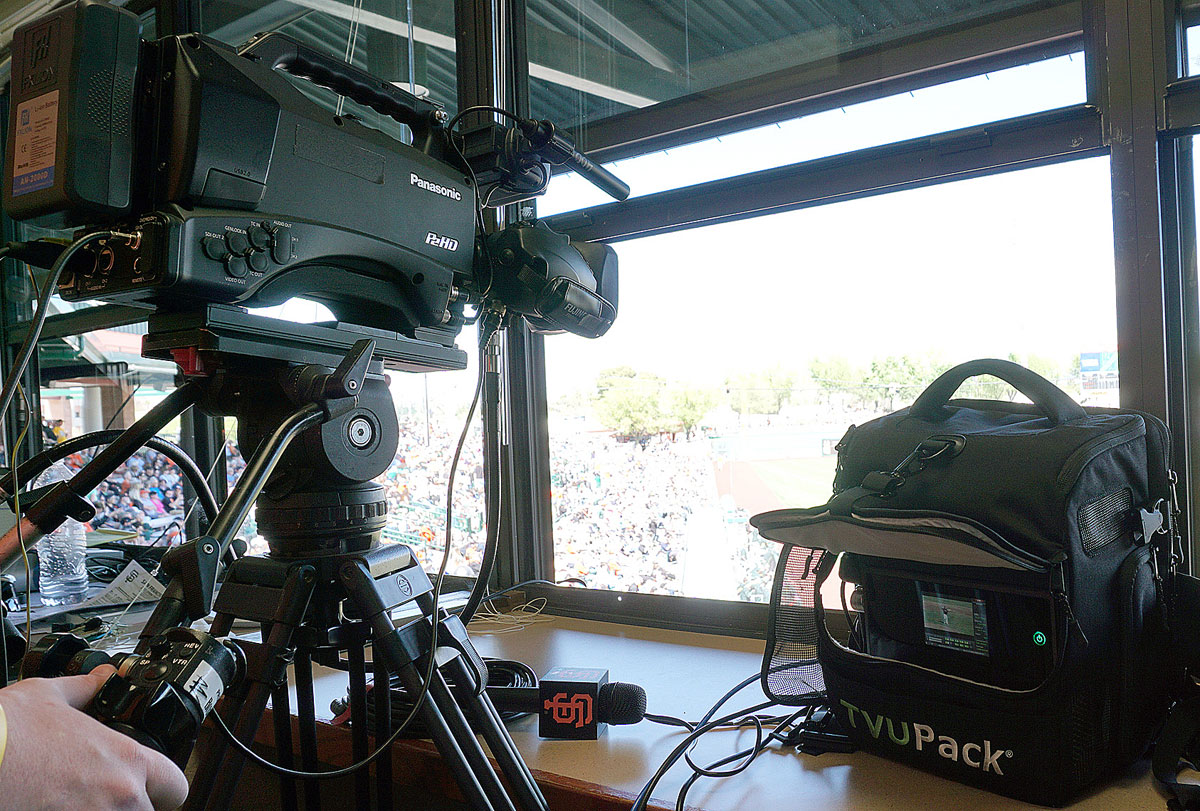 "There is a strong demand from NFL fans around the world for more access to live and instant video content that provides greater transparency and access to our 32 teams than ever before. With TVUPack, NFL Network is able to meet that demand not only in our broadcast properties, but also across Web and mobile platforms bringing fans closer to the teams." – Glenn Adamo, Vice President, Media Operations, National Football League
TVU Grid: Distribute Live Video With the Push of a Button
TVU Grid offers sports leagues and franchises a simple way to switch, route and distribute video to multiple broadcast facilities over their existing IP infrastructure without the need for expensive satellite or fiber connections. With TVU Grid, sports organizations can deliver live video to local, national and global broadcast organizations with the click of a button, increasing exposure to critical media outlets.
What Sports Leagues and Teams Say About TVU
"TVU solutions have been everything we wanted them to be. They have done a great job of getting our video content of the Pelicans to local media outlets. With TVU, we're able to send live press conference coverage and player interviews out to the media in our market that previously may not have been able to come out and get the footage themselves, which would have denied us coverage on the evening and afternoon newscasts." – Doug Tatum, Executive Director of Digital Media, New Orleans Pelicans
"We see TVUPack as a critical tool for helping the NHL media platforms report content from the field with this high quality cost effective solution, allowing us to take fans deeper into the sport with greater degrees of access and transparency that today's connected fans demand." – Bob Chesterman, Senior VP, Programming and Production, National Hockey League
See how the New Orleans Pelicans of the NBA utilize TVU solutions to deliver live video to local TV broadcast partners and fans online.