IP Based Fixed Rack Mount Solutions
TVU MLink is a cellular 3G/4G LTE, satellite and microwave live video uplink transmitter designed for fixed deployment in vehicles or in a studio. It is a one RU rack unit that is capable of aggregating the transmission signals from multiple transmission mediums simultaneously. The TVU MLink also uses the same proprietary IS+ technology that is in its award-winning TVUPack solutions to deliver a dependable picture with sub-second latency.
Key Features:
Superior Performance – TVU MLink provides the same performance, quality and functionality as the industry-leading TVUPack cellular uplink transmitters in a rack-mountable form factor. Using TVU's proprietary Inverse StatMux transmission protocols, broadcasters are able to aggregate multiple network connections simultaneously and transmit an optimized video stream that results in superior resiliency and picture quality.
Satellite and Microwave Integration – TVU MLink is fully integrated with satellite and microwave transmission systems, enabling transmission of a broadcast-quality HD signal regardless of cellular network conditions. MLink automatically aggregates all available bandwidth seamlessly, without disruption of transmission – even as satellite, microwave or cellular connections are added or dropped.
Roof-Mounted Antenna – TVU MLink works with roof-mounted external MIMO antennas when installed in vehicles, which ensure the best possible signal strength, even in challenging network environments.
Ease of Use – TVU MLink goes live with just the push of a button and no manual in-field configuration is required. Field crews can manually control a transmission using the simple front-mounted keypad on the unit and monitor live transmissions from the LCD panel.
Low Latency Transmission – TVU MLink can transmit live video with as low as sub-second latency.
On Demand Video Retrieval – TVU MLink features an onboard SSD hard drive capable of capturing up to 12 hours of continuous footage, ensuring that your video is safe and retrievable when you need it.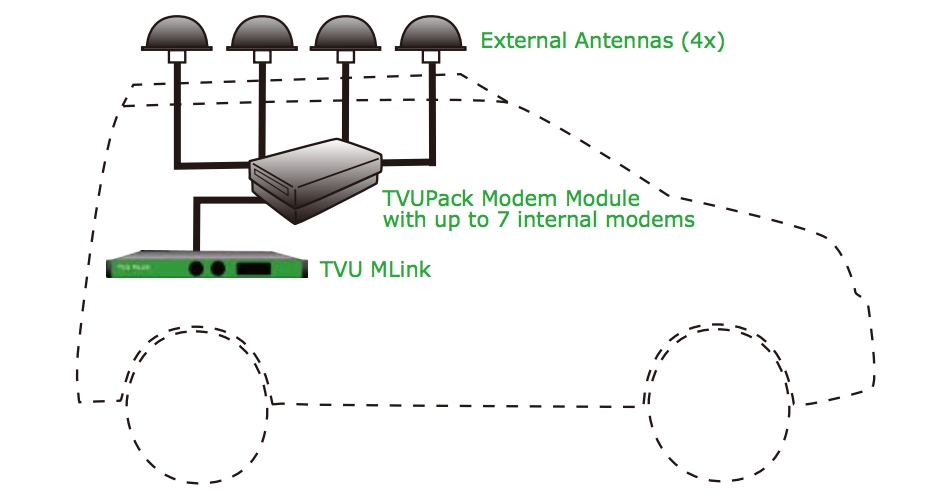 TVU MLink is also available in a H.265/HEVC and 4K encoding model. The TE4500 is rack-mountable and uses HEVC video compression for video transmission. It features Inverse StatMux Plus, TVU265 HEVC and Smart VBR technology. TVU265 is TVU's enhanced version of H.265 that's designed to more efficiently use bandwidth for cellular video transmission.