TVUPack TM8200 is the premier mobile uplink backpack transmitter featuring a rugged exterior and unique internal modular design. With the ability to transmit live video in HD, the TM8200 features a removable encoder for fixed placement in a studio or other inside setting. It also houses multiple cellular modem cards in a hard case modem module that can be easily removed and moved for optimal transmission.
You can also use TVUPack to reach your viewing audience on social media. With TVUPack, you can transmit live video directly to Facebook Live. Set up and operation is simple.
Key Features:
Utilizes Multiple 3G/4G/LTE Connections – TM8200 supports up to eight 3G/4G LTE, microwave, satellite, WiFi and BGAN data connections. The TM8200 simultaneously aggregates up to nine connections including Ethernet to broadcast live in SD or HD.
Simple One Button Setup – TVUPack goes live with just the push of a button. No manual in-field configuration is required.
Fast Start Up– TM8200 starts up in 20 seconds from a cold start. The pack automatically establishes all available wireless connections, giving users the ability to broadcast live in no time.
Resilient Video Quality – TM8200 combines TVU's proprietary IS+ advanced Forward Error Correction algorithm with TVU264, TVU's powerful proprietary H.264 encoding engine, to enable users to maximize the bandwidth available in each network connection and transmit the most stable, reliable and resilient picture possible.
Low Transmission Latency – TVUPack can transmit with sub-second latency, as low as 0.8 seconds.
Real-time HD File Transfer – TVUPack delivers a HD quality error-free video clip in real-time without needing to wait until the clip is fully recorded. This best-of-breed store-and-forward functionality ensures that high quality video production clips can be sent to the studio for editing in as little time possible.
Smart VBR Technology – Using TVU's proprietary Smart VBR technology, TVUPack automatically and dynamically manages the transmission bit rate based on a user selected latency.
On-Demand Video Retrieval – TM8200 features an on-board SSD hard drive capable of capturing up to 7 hours of continuous footage, ensuring that it's safe and easily retrievable when you need it.

Wireless Hotspot Functionality

 – TVUPack becomes a wireless hotspot when connected to the Internet, enabling video crews to edit stories in the field and send the finished story back to the broadcast facility through the pack.
IFB – TVUPack is IFB ready, enabling news operations center to communicate directly with a camera crew or reporter.
Dual Battery – TM8200 features two battery hot-swap, allowing the pack to operate on one battery while the other is charging.
Wireless Monitoring – Wirelessly monitor the status of each TVUPack including air card signal strength, battery status, etc. using any iOS or Android device.
TVU Social integration – Post still images seen in the camera viewfinder directly to Twitter and Facebook with the click of a button.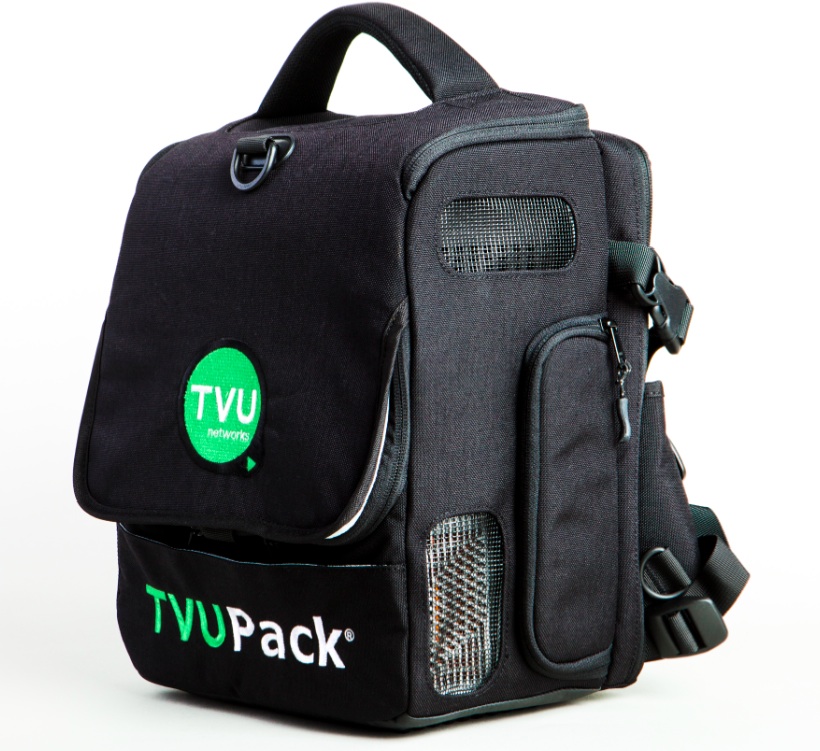 ---
Unique Cellular and Microwave Integration Options for Additional Dependability
Transmitting live HD video wirelessly in environments such as crowded urban settings and around large sports arenas can be challenging at times. Traditional satellite and microwave have their limitations, such as with buildings and line-of-sight. Even cellular uplink transmission can be affected by network load and available signal strength.
TVU offers IP cellular and microwave solutions designed to increase the reliability and dependability of live video transmission from the field. From integrated microwave technology to newer mesh, TVU provides solutions with increased transmission dependability for broadcasters in challenging bandwidth environments.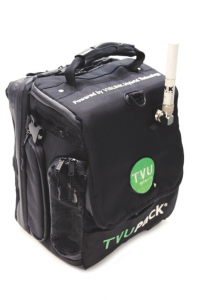 TVUPack powered by Vislink hybrid technology
Through its partnership with Vislink, TVU and Vislink have developed a unique IP based live video mobile broadcast pack with integrated cellular 3G/4G LTE and microwave. It is capable of transmitting in HD with low latency.
The hybrid TVUPack allows you to add or remove connections at anytime without needing to stop the transmission. The unit will automatically recognize any new connections and add it as an available transmission path. If a connection is removed or lost, the system will automatically shift transmission to the remaining available connections. In either scenario, the live video stream is neither disrupted nor lost, delivering smooth and dependable transmissions as bandwidth availability and signal levels change.
Other key features include:
Mobile lightweight design supports up to six 3G/4G/LTE connections as well as 2 or 7 GHz microwave.
Simple one button operation eliminates the need for in-field configuration.
Leading-edge H.264 adaptive bit-rate encoding technology producing remarkable video resolution with minimal latency.
TVUPack with MIMO microwave mesh
TVUPack with integrated MIMO Microwave Mesh overcomes challenging broadcast environments while providing the ability to transmit live video on the go. With the ability to aggregate both cellular and microwave connections, TVUPack with MIMO Microwave Mesh combines proven, award-winning IP based 3G/4G LTE cellular broadcast with specially designed MIMO IP radio transmission technology. The result is an increased ability to deliver HD quality live video transmission in challenging wireless environments.
Multiple-In Multiple-Out antenna technology (MIMO) allows for a packet to be transmitted by more than one antenna into the channel. Additionally, when the packet comes out of the channel, it is received on multiple antennas. When multiple MIMO radios are positioned in strategic locations around the area from which the live video will be transmitted, an intricate microwave mesh network is created that allows for the transmission signal to travel farther and carry more information with increased reliability.
To increase the range and effectiveness of MIMO, you simply add antennas to help relay the data from the transmitting location to the receiving location. MIMO is self-forming and self-healing, meaning that it's extremely easy to set up, and capable of responding to changing conditions.