Manage Your IP Video Content With One Central Ecosystem
TVU offers a full suite of management tools that expands any organizations' ability to embrace IP based video.
IP Video Management Solutions For Any Broadcast Workflow
Comprehensive and effective IP video management is critical for any broadcaster's workflow. It has to integrate into existing processes and provide for simple management and control. Most importantly, IP video management must enhance and expand capabilities without disrupting the workflow.
Remote Control for Any Transmission at Any Time
TVU's IP video solutions are powered by a Web-based interface that enables broadcasters to access, monitor and control live video streams from any location on any Web-connected device. On the acquisition end, TVU offers the ability to remote access and control each TVUPack transmission from any Web connected device.
Integrated Scheduling and Management Tools
TVU offers its own proprietary booking system that allows broadcasters to schedule multiple TVUPacks to work in conjunction with a TVUPack Transceiver on any particular day and time, delivering completely automated scheduling without the need for manual intervention. The TVU Grid Booking System helps to optimize broadcast operations and features a user-friendly design.
Metadata Management
Metadata is critical in today's content driven broadcasts. As archived content grows, the ability to quickly and accurately identify and extract the relevant content is crucial. All TVU solutions are capable of automatically incorporating the broadcaster's metadata into the transmission, ensuring tight integration for each transmission into the broadcaster's existing workflow.
Open API Functionality
TVU Grid's open API functionality delivers deeper integration into any broadcaster's workflow, enabling broadcast organizations to fully integrate automation and scheduling tools into the Grid system, resulting in a robust, seamless distribution solution that fits easily into the production workflow of any organization without disruption.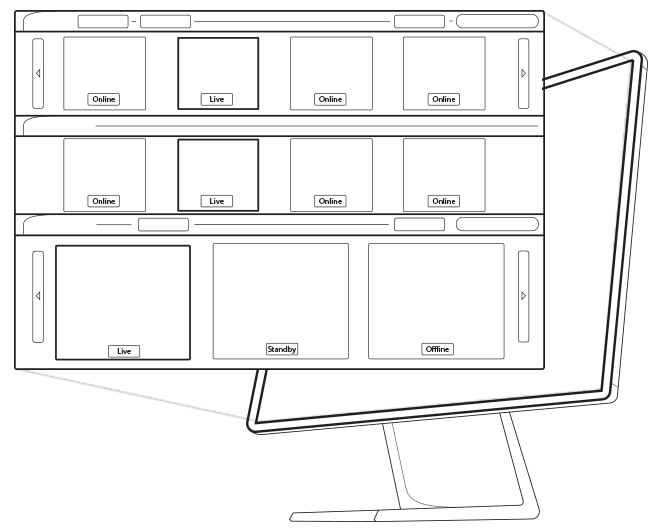 Manage, Monitor and Direct Remote Camera Crews from the Studio
TVU offers a full suite of tools that enable broadcasters to monitor and communicate with camera crews in the field right from the studio.